The skier decalogue: 10 basic rules to keep safe on the slopes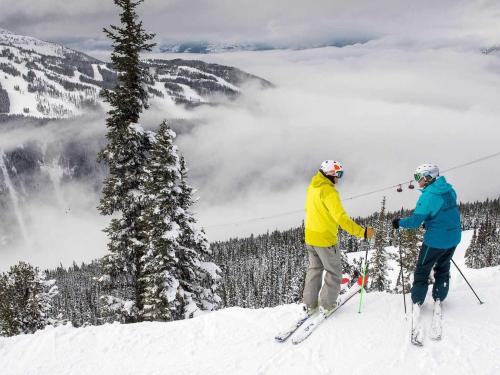 Poiana Brasov is the most renowned winter sports resort in Romania and also an important international touristic center. People that love skiing have come here since 1895. Regardless of age or training people come to Poiana Brasov to enjoy the fresh mountain air and ski on the vast slopes present here.
   We here, at the Royal Boutique Hotel, are always glad to see our tourists enjoy themselves and are ready to provide information and helpful advice to our guests, that is why we decided to post these general rules that will help you have a lovely winter sports experience in complete safety.

   The skier decalogue: 10 basic rules to keep safe on the slopes
   Those who want to ski have to observe 10 basic rules, which help them avoid unpleasant incidents.

1. Respect each other: any skier must behave in such manner, that at any given time, will not put the others near him/her in jeopardy.
2. Controlling speed and behavior: any skier must adapt his/hers slide speed and behavior to his/hers own physical and technical capacity.
3. Controlling direction: the skier up slope, who has dominant positioning, must choose his/hers path in such a way and foresee a sliding path to ensure the safety of the skier downhill.
4. Overtake: the skier can overtake freely uphill, downhill, left, right, as long as the overtaking skier takes into account the evolution of the skier that gets overtaken and keeps enough of a  safety distance in regards to him/her.
5. Crossing and traversing: the skier that traverses a slope or a school area must make sure, by maintaining visual control both uphill and downhill, taking every precaution to prevent an accident to himself/herself and to others.
6. Stopping: the skier must avoid stopping in low visibility areas and passages unless in out most necessity. In case of falling, he/she must leave the slope area as soon as possible.
7. Climbing: on skis or on foot must be done using the edges of the slope.
8. Signal compliance: anyone must obey the international warning signs deployed on the slope, regardless of the difficulty level, sports training, age etc.
9. Complying with the nature of the slope: fast skiing on a slope reserved for beginners constitutes a mistake, just as a beginner skier venturing on hard difficulty slope.
10. In case of accident: any skier or person present on the slope must ensure first aid in case of accident.

   While we hope these rules will help you and other skiers enjoy the slopes to the max in safety, we would like to offer you some extra advice: never venture on slopes and areas that are unfit for skiing, always make sure you are well prepared and take your time to get accustomed to the area you are skiing in, do not venture on slopes when the weather is not suitable for skiing and always obey the commands and directions of the ski instructors, rescue ambulance and mountain police. And always look out and take care of your fellow skiers… remember "You are never alone!"
   We look forward to seeing you at the Royal Boutique Hotel and on Poiana Brasov's wonderful ski slopes!